For most people, they want their home to look at their best. There is a lot to be gained from making home improvements, and there are DIY home improvement ideas you can start to make your home look new.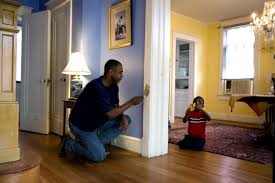 Install handmade shelves
Instead of buying conventional cookie-cutter shelves, check out a local craft fair or woodworker for custom made shelves. Handmade items allow you to customise the style, colour, design and cutouts. Adding shelves is ideal for household ornaments in the family room or an extra place for tools in the garage.
Fix wallpaper
Redecorate your wallpaper when it starts to peel. At some point, you will need to replace old or peeling wallpaper. This is one of the easiest home improvement projects that you can do. You can easily shop for wallpaper at any home improvement store. You will have to be careful during installation to avoid bubbled areas.
Install new vinyl flooring or new tiles
A new vinyl flooring will surely make a noticeable improvement. The simple self-adhesive backing of vinyl flooring or install tiles makes the replacement job easy. The job may only take a few hours and you will literally have a new floor covering.
Painting your home
Refresh either the interior or exterior paint of your home. Interior and exterior painting is a popular way of improving the overall appearance of your house. While the home painting is a task you can take, remember to read the instructions and use paint in a well-ventilated area.
Improve home lighting system
Ond of the reasonable DIY home improvement project you can take is to improve the look and feel of a home's lighting. Install dusk to dawn lighting system outside of the home can have a huge impact on the way your home looks. This lighting system turns on when its sensor detects movement outside of your home. It is ideal for any type of house, especially if you have a large area.